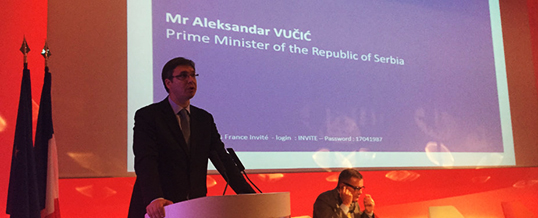 The Serbian Prime Minister Aleksandar Vucic has completed a three day visit to the French capital of Paris. During his stay, Prime Minister Vucic has met with several political leaders as well as French company representatives to discuss the many ways these two countries may continue to improve their already long standing relationship.
Aleksandar Vucic, during his stay has met with the president of the French Senate Gerard Larcher, president of the National Assembly Claude Bartolone, French Prime MinisterManuel Valls and French president Francois Hollande. During these meetings he has received numerous praise for his conviction towards Serbia's euro-integration process and for his devotion towards amicable relations in the Balkan region. As a follow up to this meeting both the Serbian and French ministers of interior will later meet to officiate an agreement on cooperation with the aim of battling terrorist and hooligan activity.
Prime Minister Vucic has also met with many important French company representatives to discuss the many investment opportunities that Serbia holds. Although not a member of the European Union Serbia enjoys a free-trade status with EU countries which coupled with the low costs of producing goods in Serbia makes for a very important strategic advantage for foreign companies looking to invest. The Serbian Prime Minister was also invited to talk at the French Business conference Business France and has expressed that the support, and subsidies that the Serbian government offers out-performs that of any other country within the region.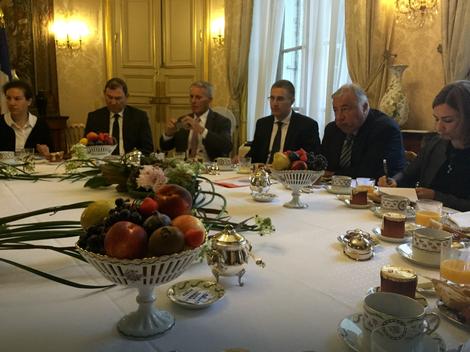 As a result of this visit, many French companies are considering the opportunities Serbia might offer them, and Prime Minister Vucic expects a new wave of investments into Serbia to come out of his visit, as well as stronger bilateral ties between the two countries. France has been an ally of Serbia's during its Euro-integration process and will continue to do so, said the French president Francois Hollande.
Share